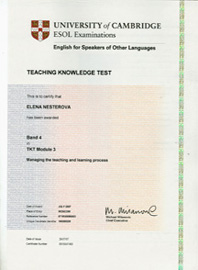 The TKT is a new test from Cambridge ESOL about teaching English to speakers of other languages. It aims to increase teachers' confidence and enhance job prospects by focusing on the core teaching knowledge needed by teachers of primary, secondary or adult learners, anywhere in the world. This flexible and accessible award will help you to understand:
different methodologies for teaching
the 'language of teaching'
the ways in which resources can be used
the key aspects of lesson planning
classroom management methods for different needs
Following training, teachers may if they wish take the Three Cambridge TKT tests. Language Link does not pay the cost of the exams (about 75$). Three Cambridge certificates are awarded.